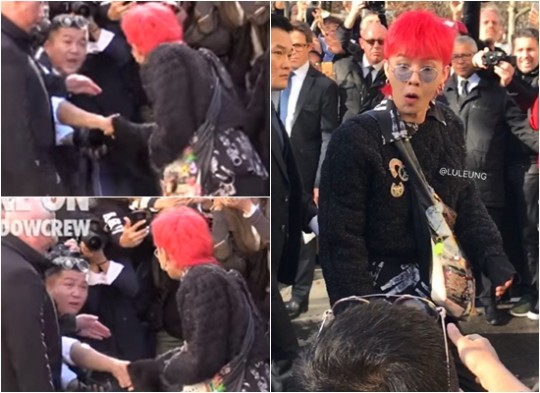 [Dispatch=박혜진 기자] "BIGBANG"s G-DRAGON and comedian Jo Se-ho had an unexpected encounter in Paris, France.
On October 3 (local time), G-DRAGON attended "Chanel 2018 S/S Collection" held in Paris, France. He entered the venue with foreign fashion people.
Then, somebody caught GD's attention. It was Korean comedian Jo Se-ho who worked as a one-day photographer there. He was covering GD with other press people.
G-DRAGON looked surprised. GD accepted Jo Se-ho's handshake with a startled face. Then, GD entered the show venue after greeting fans.
Jo Se-ho was visiting Paris for the shooting of Korean TV show "Photo People". In the show, Jo works as a photographer after learning photo shooting from famous photographers. The show will be aired on NAVER in December.