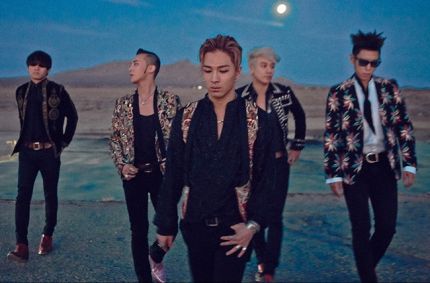 [OSEN=?????]"BIGBANG beware, another BIGBANG will be out in June." This was said jokingly by many when BIGBANG announced that their "MADE" series will be unveiled consecutively. But it seems like this will no longer be just a joke.
With the release of album "A" imminent, their May track "LOSER" still stands at the top of charts. The new tracks are said to be very BIGBANG-like, and they will have one dynamic promotion by unveiling the track real-time through streaming. They will be in for a battle against their other song.
On My 29 YG Entertainment unveiled a poster on its official blog (www.yg-life.com) about the BIGBANG Countdown Live.
Titled "BIGBANG COUNTDOWN LIVE'? '2015.06.01 11PM, EXCLUSIVE LIVE STREAMING WITH NAVER," BIGBANG will be appearing on Naver at 11am on June 1 live, an hour before the revelation. The streaming will feature BIGBANG talking to the fans and introducing the album.
The unprecedented promotion and the much-anticipated new tracks to be unveiled are attracting much attention already. "BANG BANGBANG" and "WE LIKE 2 PARTY" are said to have some very addictive hooks, which will be quite a change form "LOSER," a song about lonely people.
It is also said that "BANG BANGBANG" is like an extension of "FANTASTIC BABY" and "LIES." The summery poster of "WE LIKE2 PARTY" features five members walking along the Jeju beach. The two seemingly very different tracks are building anticipation.
With the track-release nearing, "LOSER" and "BAE BAE" unveiled on May 1 are still showing undying popularity. "LOSER" in particular topped South Korea's largest music site Melon chart at 7am on May 29.
The two tracks in May earned BIGBANG whopping 10 trophies on music programs. They seized the first one without even making a comeback performance on MBC's "Show! Music Center on May 9. They then went on to sweep across KBS 2TV's Music Bank, Mnet's M Countdown, MBC Music's Show! Champion. They were triple crowned on SBS's Inkigayo.
The music videos on YouTube continue to attract viewers as well. In the evening of May 29 "LOSER" hit 25.9 million views, soon to reach 26, while "BAE BAE" attracted more than 20 million.
So it seems like BIGBANG will be in a battle against themselves. They are expected to quench the thirst of the public by providing a various range of fun music.
2015. 5. 30.
Source: Osen via
YG Life