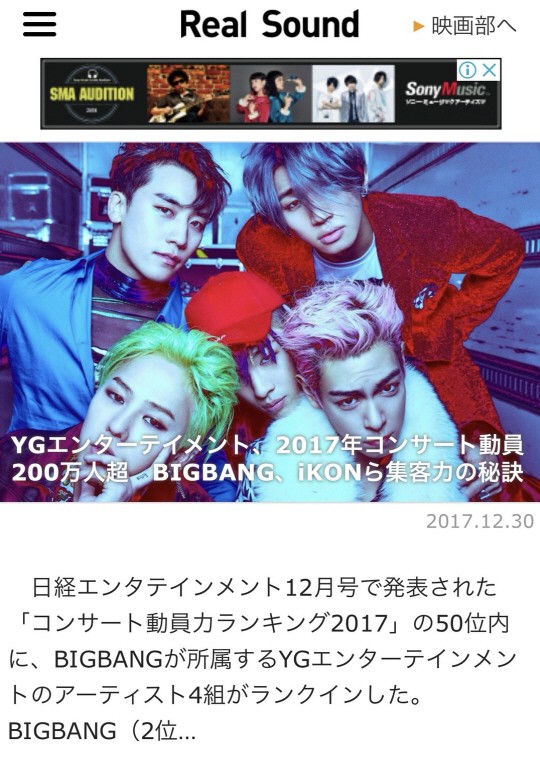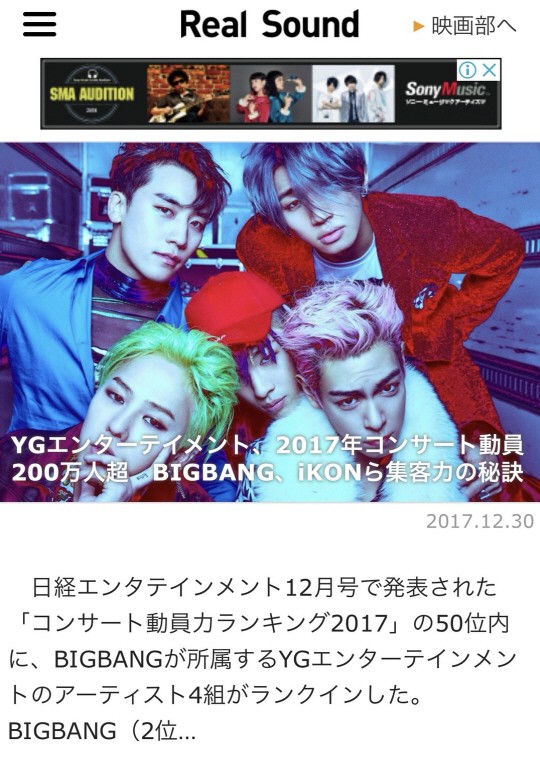 [스포츠조선=이유나 기자] 'Brother-groups' BIGBANG and iKON, proved their status as performance artists.
Nikkei Entertainment recently announced a list of '2017 Concert Mobilization Power Ranking' from 1st to 50th place. Among many artists, BIGBANG and iKON from YG Entertainment made it into the top list, proving their 'world-class' popularity.
According to the chart, BIGBANG was placed at 2nd with a total of 20 concerts and 1,022,000 audiences. iKON was placed at number 12 with a total of 33 concerts and 463,000 audiences. Also, individual members of BIGBANG who actively worked as a solo artist in Japan, DAESUNG and G-DRAGON, took the 30th and 34th place.
BIGBANG was placed at number 1 for two consecutive years, in 2015 and 2016. The rankings this year include not only foreign artists but also local artists of Japan, which makes the list even more meaningful.
Furthermore, YG mobilized 2 million audiences in Japan alone, due to the support and love from fans.
The reasons why artists from YG have high concert mobilization power globally include unique performances, live quality, and the huge scale which is considered to be on another level.
BIGBANG also set a milestone in Japan as the first foreign artist to have a 5-year consecutive dome tour, drawing 4,205,500 audiences.
As BIGBANG successfully wrapped up their dome tour in Japan, they will hold a year-end concert at Seoul Gocheok Sky Dome for two days, starting from today (December 30). As the members will not be able to perform as a team for a while, they are planning to make the concert epic, covering the past 11-year history of BIGBANG.
Meanwhile, iKON who set the record for having the longest tour with the most number of concerts in the history of Japanese tours, will be coming back to the K-Pop scene on January next year. They are planning to accept the wishes from fans and will therefore focus on activities in Korea.
2017. 12. 30.