[조이뉴스24=이미영 기자] BIGBANG's G-DRAGON confessed that renewing his contract with YG Entertainment was the hardest decision he had to make throughout his whole life.

In the afternoon of December 13, BIGBANG was interviewed at the YG Building in Hapjung-dong, Seoul. The members talked about their new album "MADE THE FULL ALBUM" and how they felt.

BIGBANG members renewed their contracts with YG last year. Afterwards, BIGBANG produced a host of hit songs, making 2016 yet another best year for the group.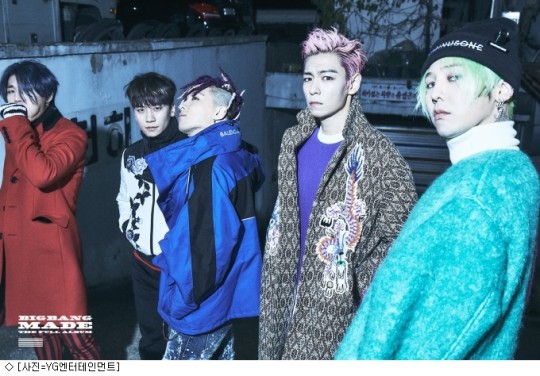 During the interview, G-DRAGON said, "I really thought hard before renewing my contract with YG, and I think I've matured as a result."

He went on to say, "Even now, I don't try to act all grown up on purpose, but at that time, we had a lot on our minds and were stressed. I think we've become to understand each other better."

"I don't put energy into anything else other than our performances or music. It was hard both physically and mentally. We're on a tour and we had to be together all the time. If I had been doing my solo album promotions, it would have been harder. We've become to understand each other better and really bond. I learned what was in the minds of the other members then" added G-DRAGON.

The teamwork between BIGBANG members got better in the run up to renewing their contracts.

G-DRAGON said, "We'd been working hard ever since our debut, but somebody told us to stop. We began to look back and think about whether we should continue or not. We began to realize that we should be thankful to the staff, our fans, and our families. We were full of ourselves, but we learned to be humble and how to really care for each other. We felt thankful to our agency, and we grew up in the process. It was hard, but it was the right decision."

Upon released, the double title tracks of BIGBANG's new album, "FXXX IT" and "LAST DANCE", and its new song "GIRLFRIEND" took the top three spots on the charts, signaling the comeback of a superstar.

The album is BIGBANG's first regular album in eight years after its second regular album released in 2008. Since BIGBANG members will all have to do their mandatory military service soon, so it will be the last album that all five members have participated. Expectations ran high for the album as BIGBANG has earned people's trust in their music over the last ten years.

BIGBANG is planning to appear on music shows and variety shows and attend award ceremonies. The group will also hold concerts at the Gocheok Sky Dome Gochuk on January 7-8 next year.

2016. 12. 13.