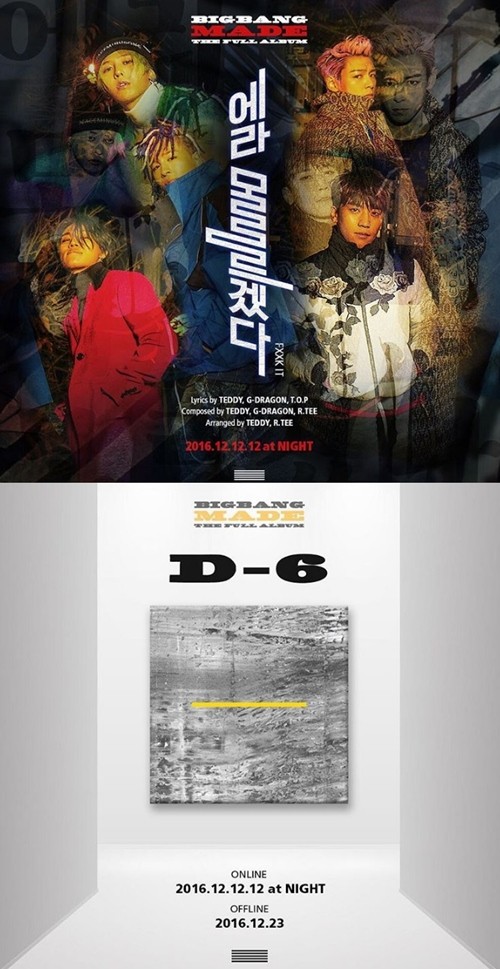 [일간스포츠 =이미현 기자] BIGBANG is releasing new songs in December. The title track of BIGBANG's new album is "FXXX IT".

On December 6, BIGBANG unveiled the title of the title track of their new album on YG Entertainment ("YG")'s official blog.

"FXXX IT" is co-produced by G-DRAGON and YG's main producer TEDDY. G-DRAGON, T.O.P, and TEDDY took part in writing the song's lyrics. R.Tee, a rookie songwriter of TEDDY's new label THE BLACK LABEL, has his name on the poster as well, as a composer and arranger of the song.

YG's head producer YANG HYUN SUK once unveiled a film of BIGBANG's music-video shooting on his Instagram account, with hashtags "#is it ok to post this? #Whatever, fxxx it". Those hashtags were kind of hints about BIGBANG's new song. The film was the one taken at the shooting of the music video of "FXXX IT".

BIGBANG's "MADE" full-album to be released on December 12 at 12AM will include BIGBANG's hit songs released last year including, "BANG BANG BANG", "LOSER", "BAE BAE", "SOBER", "LET'S NOT FALL IN LOVE", "IF YOU", "ZUTTER", and "WE LIKE 2 PARTY" which swept No.1 on monthly music charts for four months, as well as new songs.

Notably, as T.O.P will join the police for his mandatory military service in next February, not only fans in Korea but also fans overseas are showing higher-than-ever anticipation for BIGBANGs new songs and performances.

As such, BIGBANG who had not been appeared in that many TV shows together so far, has confirmed their appearance in MBC "The Infinite Challenge" and "Radio Star". They will also present special performances in SBS GAYO-DAEJEON on December 26.

An YG insider expressed confidence in BIGBANG's new album, saying, "'FXXX IT' is one of the title tracks of BIGBANG's new album. The album will have double title tracks. We've already completed the music videos of two songs. It will be worthwhile to look forward to BIGBANG's new songs to be released after one year of hiatus".

BIGBANG's third full-album "MADE FULL ALBUM" is BIGBANG's first new album in one year, and the first full-album in eight years since their last full album. Notably, it will be the last album released by the complete team of BIGBANG before T.O.P joins the police for his mandatory military service. As such, BIGBANG's new album is drawing all the more attention. Fans are also showing keen interest in what new songs will be presented in the album along with "FXXX IT".

BIGBANG will perform in TV music shows and appear in entertainment shows after their comeback on December 12. On January 7 and 8 in 2017, BIGBANG will meet fans from around the world in "BIGBANG10 THE CONCERT : 0.TO.10 FINAL IN SEOUL" to be held at Gocheok Sky Dome in Seoul.

2016. 12. 6.