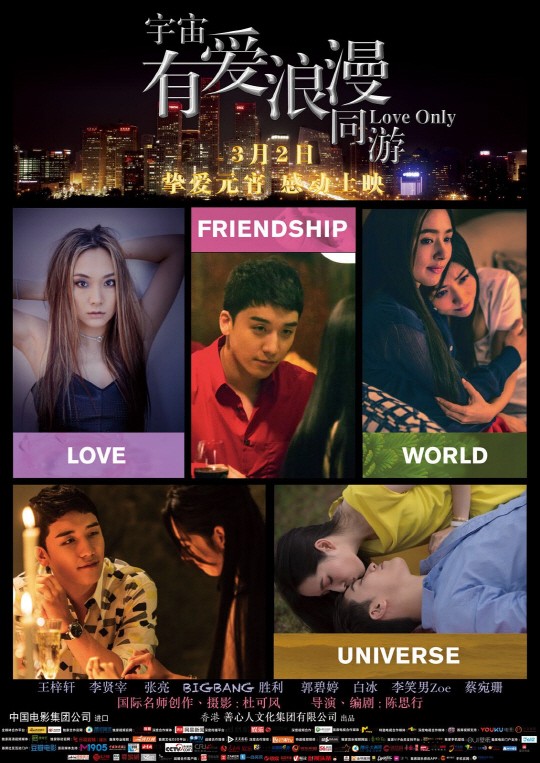 [스포츠조선=김성원 기자] BIGBANG's SEUNGRI sang OST for the movie 'LOVE ONLY' starring himself.
On February 14, SEUNGRI will open 'Movie Song LOVE ONLY by 'FADED' Global Launch Party' for the soundtrack of 'LOVE ONLY' at club CUBIC located in Macau.
SEUNGRI will run the premiere and introduce the music video himself. Furthermore, he will spend time communicating with the fans who attend the party as well. All profits from the event will be donated for a good cause.
The song 'Faded' sung by SEUNGRI is a hit song originally performed by Norwegian DJ, Alan Walker. SEUNGRI completed the soundtrack by singing the song in Chinese. The song known for its ambient electronic sound was reborn as a romantic version with SEUNGRI's warm vocals and emotions. The music video successfully portrays the emotional scenes and its touching moments from the film.
'Faded' the soundtrack for 'LOVE ONLY' and its music video will be revealed at 7 PM on the day of the event through music platforms including QQ Music, Kugou, and Kuwo.
The film 'LOVE ONLY' is a romance movie that portrays love between a young couple, and contains stylish visuals from Beijing, Hong Kong, France, UK, and Saipan. The stylish elements and romantic emotions are complexly illustrated, raising expectations on the film. The premiere is planning expand from China to Hong Kong, Taiwan, Singapore, Vietnam, and more.
2018. 2. 14.