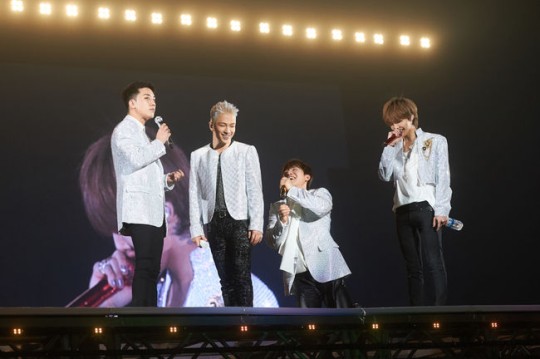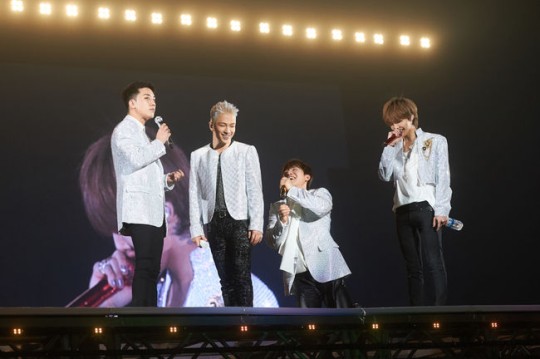 [OSEN=김은애 기자] "Pleas wait for us. Immodestly, we ask for your support."
As it was the last concert before joining the army, every minute and every second was special. Although there were only 4 members present, they shook the entire Gocheok Sky Dome and made special memories with the fans.
BIGBANG held 'BIGBANG 2017 CONCERT 'LAST DANCE' IN SEOUL' on December 30 and 31 in Seoul Gocheok Sky Dome.
As this concert was the last BIGBANG concert before the members join the army, people showed a lot of interest even before the ticketing started and eventually gathered 60,000 audiences. Men and women of all ages regardless of nationalities gathered to watch the concert, since BIGBANG was passionately loved for the past 11 years as a top-class group.
#Tentatively Their Last Concert
While opening the concert with songs 'HANDS UP' and 'SOBER', BIGBANG said hello to the fans. G-DRAGON stated, "I hope you have fun at this concert as today's a very special day. It's a pleasure to meet you", while SEUNGRI stated, "Let's party. We'll make the best concert ever", reestablishing his determination.
DAESUNG stated, "The last performance is the king of performances. Let's make the best memories tonight". TAEYANG lead cheers from the crowd by stating, "Are you ready to party".
Although it was tentatively their last concert, BIGBANG performed while staying bright and positive. SEUNGRI later stated, "Actually I felt emotional while preparing for the concert. Some staff members even had teary eyes".
TAEYANG stated, "We won't be able to meet our fans for a while. We will do our best so that you can remember us for a long time". G-DRAGON confessed, "I have mixed feelings today. There's no way to explain it except by saying I really like it. I'm happy".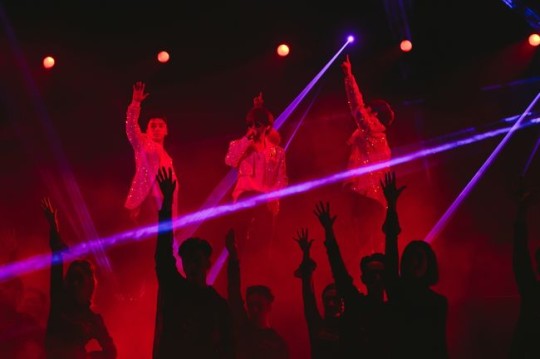 #Last Goodbye & Mentioning Military Duty
Members of BIGBANG will be serving military duty starting next year. While almost shedding tears, SEUNGRI stated, "I felt like the tour would go on forever, but now it has ended. I can't believe I must say goodbye to you all. My heart is off the charts thinking this is the last". DAESUNG stated, "I tried to capture everything with my eyes. For the past few years, there have been rumors that the year-end concerts will be the last. This concert really became the last concert before joining the army".
He continued, "I'll comeback after my duty as a man. I will be back", mentioning his upcoming military duty. TAEYANG requested, "Thanks to all of you, I was able to release my solo album and go on a solo tour. It has been a busy year. Actually, it was physically strenuous. I wanted to meet you as soon as possible. Meeting you on stage makes me really happy. Although it's sad to think that I won't be able to meet you for a while after the concert, it also makes me look forward to the day we meet again new and improved. Please wait for us".
G-DRAGON promised, "The name of the concert, 'LAST DANCE' doesn't have a serious meaning. I'm sure this is not the last. If you stay where you are, we will depart for a while but soon meet again in good shape". G-DRAGON and TAEYANG continued by emphasizing, "Please wait for us. Immodestly, we ask for your support".
SEUNGRI stated, "I don't know if I deserve to stand up hear. It actually scares me. I feel like I only caused trouble as a member". He continued, "I feel like I only received help. I want to be a member that helps the agency and staff". Then he promised, "We will come back as five members".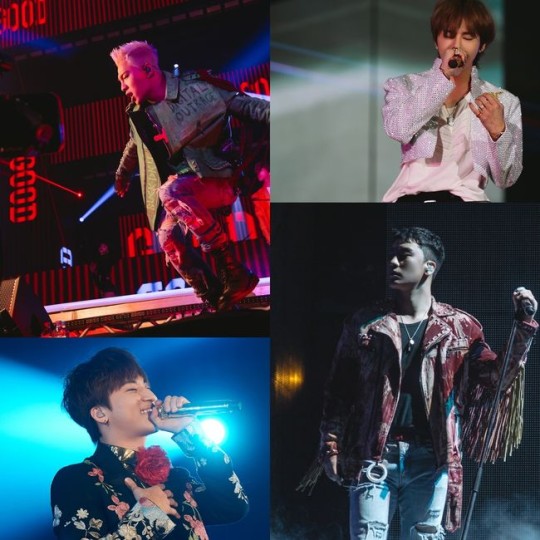 #Setlist
Since their debut on 2006, BIGBANG was successful in Korea and overseas on every song they released. It's hard to select their greatest hit, considering songs such as 'LIES', 'DAY BY DAY', and 'BAE BAE'. Therefore, BIGBANG performed songs that remind the fans of the group's past 11 years history.
At the early stage, BIGBANG set the party mood with songs 'WE LIKE 2 PARTY' and 'LOSER'. At the end of the concert, they sang 'IF YOU', 'DAY BY DAY', 'BANG BANG BANG', and more, making the fans sing along altogether. People were impressed by the number of hits by BIGBANG. On the encore performance, they sang 'LIES', 'HEAVEN', 'BAE BAE', and 'LAST DANCE', displaying fantastic performances for the fans until the end.
#Best Live & Humor
BIGBANG's biggest strength is that they know how to party on stage. On the day of the concert, BIGBANG communicated with the fans while crisscrossing on stage.
BIGBANG showed off their fantastic live singing as they swallowed a CD, while displaying a relaxed dance performance. Their sexy dance and unique ad-libs also caught people's attention. They performed harmoniously as they even planned their mischievous actions. The colorful screen and lights added perfection to the performance.
Their humor was also overwhelming. They pleased their fans with cheerful talks. Above all, SEUNGRI and DAESUNG made the people laugh by making fun of the older members. SEUNGRI stated, "Nowadays, there are idols who think of me and DAESUNG as role models. It used to be G-DRAGON, TAEYANG, and T.O.P most of the time". DAESUNG bragged about his big nose while being chatty and stating, "For men it's the nose that matters".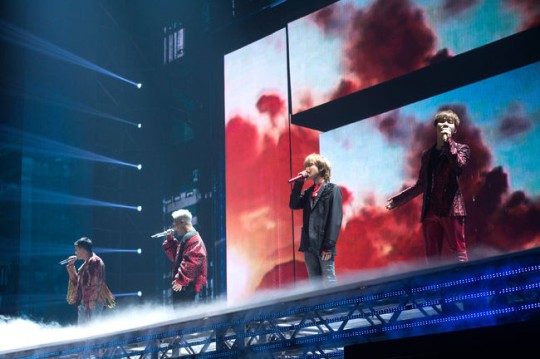 #T.O.P's Time Off
On this concert, 4 members excluding T.O.P, who's taking time off got on stage. It was sad for the members and fans as it was the last concert.
Since T.O.P is a rapper in BIGBANG, people were curious on how they will replace his parts. BIGBANG used various methods including MR to cover for T.O.P's parts. DAESUNG even rapped T.O.P's verse while performing 'SOBER'. DAESUNG surprised the fans with his rap skills, although he is a vocalist in the team. SEUNGRI sometimes shouted, "Say T.O.P" when it was his turn to sing.
#Solo & Unit
BIGBANG was also popular with solo releases from members. TAEYANG performed 'WAKE ME UP' and 'DARLING', while G-DRAGON sang 'BULLSHIT' and 'Untitled'. DAESUNG performed his Japanese solo release 'D-DAY' and 'AZECHO', while SEUNRI performed 'COME TO MY' and 'STRONG BABY'.
G-DRAGON mentioned, "It's almost my first time performing 'BULLSHIT' and 'Untitled' on stage. I felt sorry for not being able to make TV appearances after releasing my solo album". DAESUNG stated, "I usually worked solo in Japan. I wanted to sing in Korean too. I'm planning to sing for you someday when I get the chance".
The unit performances were also impressive. SEUNGRI and DAESUNG outlandishly performed 'LOOK AT ME, GWISOON' and 'GOOD BOY' by G-DRAGON and TAEYANG. Then G-DRAGON and TAEYANG appeared to perform the original 'GOOD BOY', displaying overwhelming talent.
2017. 12. 31.