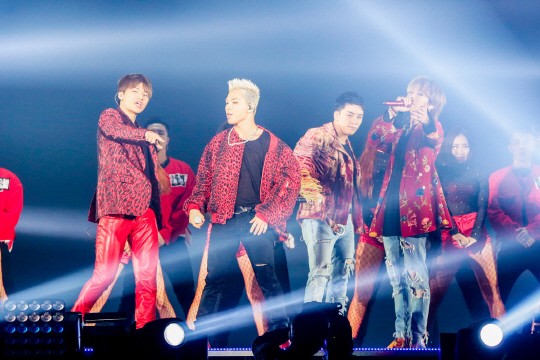 [서울경제=금빛나 기자] BIGBANG set a milestone as foreign artist in Japan, becoming the first foreign artist to hold a 6-year consecutive dome tour and drawing 4,205,500 audiences.
BIGBANG beautifully decorated the last concert of 'BIGBANG JAPAN DOME TOUR 2017 -LAST DANCE-' in Japan's Kyocera Dome, Osaka, on December 24.
Kyocera Dome Osaka is a meaningful place as much as the Tokyo Dome, as it's the location where BIGBANG first held a dome concert in Japan on November 23, 2012. BIGBANG's concert that started from the 21st at Kyocera Dome Osaka, drew 50,000 audiences each time for four days.
The concert held on December 24 was the last concert of this dome tour and due to the fact that the fans will not be able to watch BIGBANG perform in Japan for quite a while, the audiences were more passionate than ever.
As BIGBANG started the opening stage with the song 'HANDS UP', the 50,000 audiences shook the stage with a huge roar. On the following performance of the song 'LOSER', BIGBANG crossed 100 meters through a moving stage with dimensions of 4 meters height and 13×3.6 meters width, which was the highlight of this tour. It was a desire from BIGBANG to reach the fans as close as possible.
G-DRAGON stated, "As spring comes when winter ends, don't be sad and stay strong until the day we meet again, it won't be too long". He added, "Us 5 members of BIGBANG always hope you guys are happy. That's the source of our energy".
He also expressed his gratitude by stating, "If we spend each day hoping for the day of reunion, I think the day will soon come. Our love for you will never change".
BIGBANG spent a passionate moment while performing their greatest hits, including 'FANTASTIC BABY', 'BANG BANG BANG', and more. During the encore performance, the members got on the moving stage and camera wagons and saw the slogan, 'BIGBANG IS VIP' decorated with LED bracelets by fans, which made the members feel touched.
As BIGBANG successfully finished the Japan Dome Tour Concert, they will close the year on their upcoming concert in Seoul Gocheok Sky Dome on December 30 and 31.
2017. 12. 25.