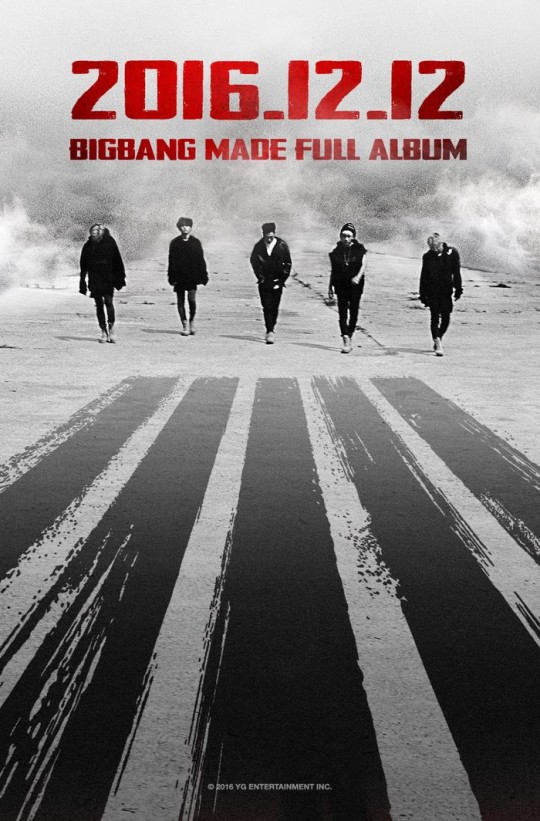 [일간스포츠=황지영 기자] BIGBANG is finally coming back.
On November 22, YG Entertainment started the countdown for BIGBANG's comeback by unveiling a comeback teaser image for BIGBANG. The teaser poster officially announces BIGBANG's comeback on December 12. The poster in which the five members of BIGBANG are walking forward catches the eyes, with its intense black-and-white image.
BIGBANG's new album to be released in December is the grand finale of BIGBANG's "M.A.D.E" project that has been carried out since last year. It is BIGBANG's third full album released eight years after the second one. The album bears all the more significant meaning, as it is the last full album of BIGBANG before BIGBANG's eldest member T.O.P joins the police for his mandatory military service. Notably, December 12, the date of the album's release, is also the birthday of BIGBANG's youngest member SEUNGRI, so BIGBANG's comeback is drawing all the more attention.
BIGBANG will present double title tracks for their new album. BIGBANG recently shot a music video for one of the title tracks in Cheongju in Chungcheongbuk-do, and another video for the other title in Seoul. YANG HYUN SUK posted an image of BIGBANG members riding bicycles on his Instagram account, to raise fans' curiosity about the new music videos.
After coming back with the new album in December, BIGBANG will hold concert "BIGBANG 10 THE CONCERT 0.TO.10 FINAL IN SEOUL" on January 7 and 8 next year, at Gocheok Sky Dome in Seoul.
2016. 11. 22