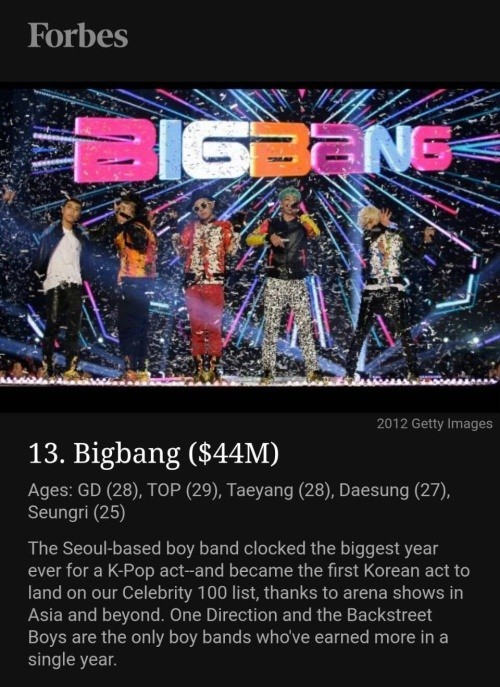 [헤럴드POP=박수인 기자] BIGBANG made it on the Forbes list of the 30 highest-paid celebrities under 30.
On November 15 (local time), Forbes announced the list of "The 30 Highest-Paid Celebrities Under 30 In 2016" on its website. BIGBANG came 13thwith an annual earning of $44 million (about 52 billion won).
BIGBANG was the only Korean act on the list. Others on the list include Tayler Swift, Justin Bieber, Adele and Rihanna.
Forbes said, "the band took home more than any active American all-male arena pop group", which demonstrates BIGBANG's strong presence in the US market.
Earlier on, Forbes put BIGBANG on its Celeb 100 list and its World's Highest Paid Celebrities 2016 list.
Meanwhile, BIGBANG is to make a comeback at the end of the year. Currently, the group is on a tour titled "BIGBANG THE CONCERT: 0.TO.10 THE FINAL-", which started on November 5 at the Tokyo Dome. With this tour, BIGBANG became the first foreign artist to go on tours for four consecutive years in Japan. BIGBANG will hold 16 concerts in four cities, and as much as 781,500 people are expected to come to the group's concerts.
2016. 11. 17.